April 18, 2017
Mid-Century Marvel: An architectural gem on Gibson Island regains its shine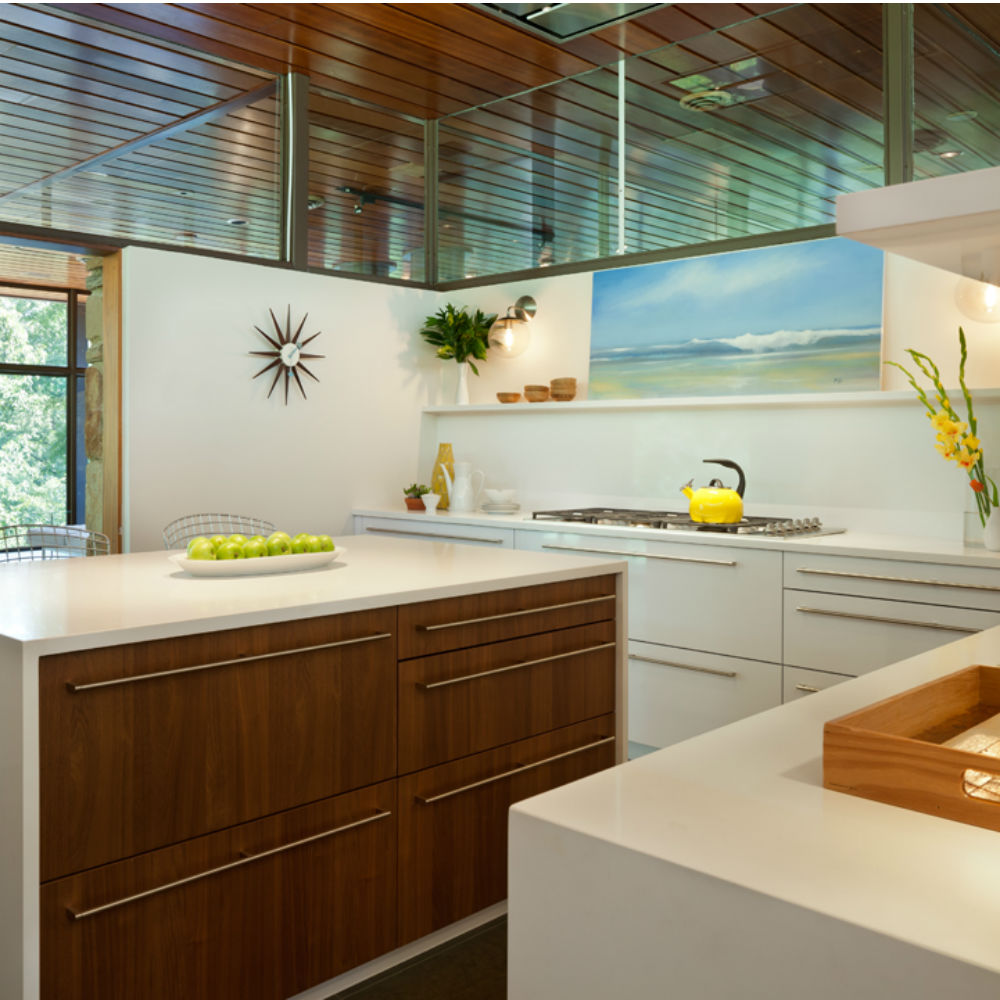 Article from Home & Design, April 2017
Luis and Cara Medeiros long enjoyed visiting Gibson Island near Annapolis, but when they decided to look for a home to purchase, they were underwhelmed. "A lot of the homes here are like our primary home in Chevy Chase," says Cara Medeiros, noting the abundance of traditional houses and quaint cottages. "We wanted something different."
They discovered their unique retreat at the apex of a wooded rise high above the convergence of the Chesapeake Bay and the Magothy River. The home was designed in 1962 by architect Ulrich Franzen (a disciple of I.M. Pei) for an executive of Maryland's Bethlehem Steel, whose furnaces provided the massive I-beams that ground the home's glass-and-stone façade. Inside, a mahogany ceiling soars above the ground-floor rooms and interior walls to admit an abundance of natural light through clerestory windows.
Yet by the time the Medeiroses visited with Jim Rill of Rill Architects, the home was run-down. It had only three bedrooms, a dated kitchen and baths and an awkward indoor pool on the lower level. "It's such a cool house, yet no one knew what to do with it," Cara Medeiros recalls. "But we were pretty sure right away. I felt the structure was solid and unique, with a really high level of craftsmanship. And nature was so much a part of the house—it was breathtaking."
Rill agrees, adding, "I immediately saw a great piece of historic architecture we could bring back to life."
Renovations over the years had made many of the rooms "introverted," as the architect describes it, with awkward walls and doors that closed spaces off from the exquisite, treehouse-like views. Rill's makeover focused on honoring the home's original intent: a seamless relationship between indoors and out. Rooms such as the master bedroom were reoriented toward the home's glass windows after a wall was removed and the original doorway restored. The bathrooms, which featured odd angles (like a triangular shower) and toilets where you could bang your knees against cabinetry, were gutted and modernized. An elevator in the center of the home was removed to create an open staircase.
This forged a stronger connection between the main level and the lower level, which, Rill says, "was completely wasted space. It was like going into a dungeon with a swimming pool in it."
Filling in the existing indoor pool made way for a bright fourth bedroom and office. The lower den was updated with an accent wall covered in porcelain tile (the same used on the main-level floor). Most importantly, the lower level now provides an exit to a beautiful new deck and outdoor pool.
"We worked really hard on the deck and the pool," says Cara. "We wanted it to have the look of an infinity pool with no barrier between it and the woods. We carefully laid everything out with Jim and our landscape designer, Tom Flaharty, so it looked completely natural."
One facet of mid-century living was that functional spaces like the kitchen were just that—functional. The kitchen in this home was very much in its original state, with metal cabinets, a predictable L-shape and a massive, industrial range hood that, thanks to the clerestory, dominated every view on the main level. The owners asked kitchen designer Shawna Dillon of Studio Snaidero DC Metro to respect the original kitchen's mid-century design while making it livable for this century.
By pushing back a wall, Dillon created enough space for an island. A flush, ceiling-mounted BEST Cirrus hood keeps the sightlines free of distractions. For similar reasons, the design employs wall sconces instead of pendant lights.
"The mahogany ceiling is a warm, dark color and such a focal point, so we used a high-gloss laminate cabinet finish that is highly reflective of the natural light," says Dillon, who also kept things light by sourcing countertops in Pure White Caesarstone, which is both luminous and low-maintenance. "White and walnut wood are typical finishes for the mid-century, and the clients wanted to echo back to what the house was meant to have."
With input from Rill, Medeiros furnished the interiors herself, honing in on a neutral palette so as not to compete with the ever-changing seasonal display outside. Whenever possible, she selected items that are translucent—the glass dining room chandelier, for example, and even a clear wood rack for the fireplace—to minimize any jarring interruptions between indoors and out. Furnishings and finishes throughout conjure the home's mid-century style.
"I knew I wanted to be true to the time period because this is such a classic piece of mid-century architecture," says Medeiros, "but I didn't want to be too predictable."
The interiors are a combination of period-appropriate and contemporary pieces interspersed with vintage finds. "If everything were brand new, the house would have no soul," Medeiros explains. The living room evokes the home's golden era with Knoll womb chairs upholstered in wool bouclé and a black Bassam-Fellows daybed, but the Bonaldo "Planet" coffee table is thoroughly contemporary. Medeiros selected artwork for the house that is rooted in Maryland, including paintings rescued from the Gibson Island Clubhouse when it underwent reconstruction.
When the Medeiroses first began looking for a vacation house to share with their two college-age children and their rescue dogs, they wanted a change. Now, they are completely at home in their treehouse by the bay. While they frequently entertain guests, the house is most importantly a haven for its owners. "When we come here," concludes Cara Medeiros, "it is a real escape."
Writer Christianna McCausland is based in Reisterstown, Maryland. Eric Taylor is a Fairfax Station, Virginia, photographer. Gordon Beall a Washington, DC, photographer.
ARCHITECTURE: JAMES F. RILL, AIA, principal; DAVID BENTON, AIA, project manager, Rill Architects, Bethesda, Maryland. KITCHEN DESIGN: SHAWNA DILLON, Studio Snaidero DC Metro, Alexandria, Virginia. CONTRACTOR: Horizon Houseworks, Crofton, Maryland. LANDSCAPE DESIGN: TOM FLAHARTY, Rivendell Landscaping, Inc., Grasonville, Maryland.
RESOURCES
THROUGHOUT  Porcelain Tile Floor: mosaictileco.com.
LIVING ROOM  Womb Chairs: knoll.com through dwr.com. Daybed: bassamfellows.com through dwr.com. Coffee Table: bonaldo.it/en. Sofa: bassamfellows.com for hermanmiller.com. Sofa Fabric: maharam.com. Sofa Table: crateandbarrel.com.
DINING ROOM  Chandelier: arteriorshome.com. Credenza: Custom by Shawna Dillon; snaiderodcmetro.com. Saarinen Pedestal Table: knoll.com. Dining Chairs: dwr.com. Bench: hermanmiller.com through dwr.com.
KITCHEN  Cabinetry: snaiderodcmetro.com. Hood: bestrangehoods.com. Countertops: caesarstoneus.com. Bertoia Bar stools: knoll.com through dwr.com. Range: mieleusa.com. Plumbing Fixtures: kwc.com.
SITTING ROOM  Chair & Ottoman: Herman Miller Eames chair and Ottoman: hermanmiller.com through dwr.com. Rug: westelm.com. Sofa: crateandbarrel.com.
MASTER BEDROOM  Bed, Table, Chair & Stools: roomandboard.com. Painting: saetastudio.com.
MASTER BATH  Flooring & Shower Floor: mosaictileco.com. Vanity: Custom through snaiderodcmetro.com. Pendants: nichemodern.com.
GUEST ROOM  Bed: westelm.com. Chairs: theodores.com. Desk: roomandboard.com.
DEN  Sectional: crateandbarrel.com. Coffee Table: roomandboard.com. Orange Chair: westelm.com. Fireplace Tile: mosaictileco.com.
POOL DECK  Pool Construction: Zach Casto, jpools.com. Richard Schultz 1966 Chaises: knoll.com. Lounge Chairs: janusetcie.com.