June 16, 2022
Snaidero Innovation at EuroCucina 2022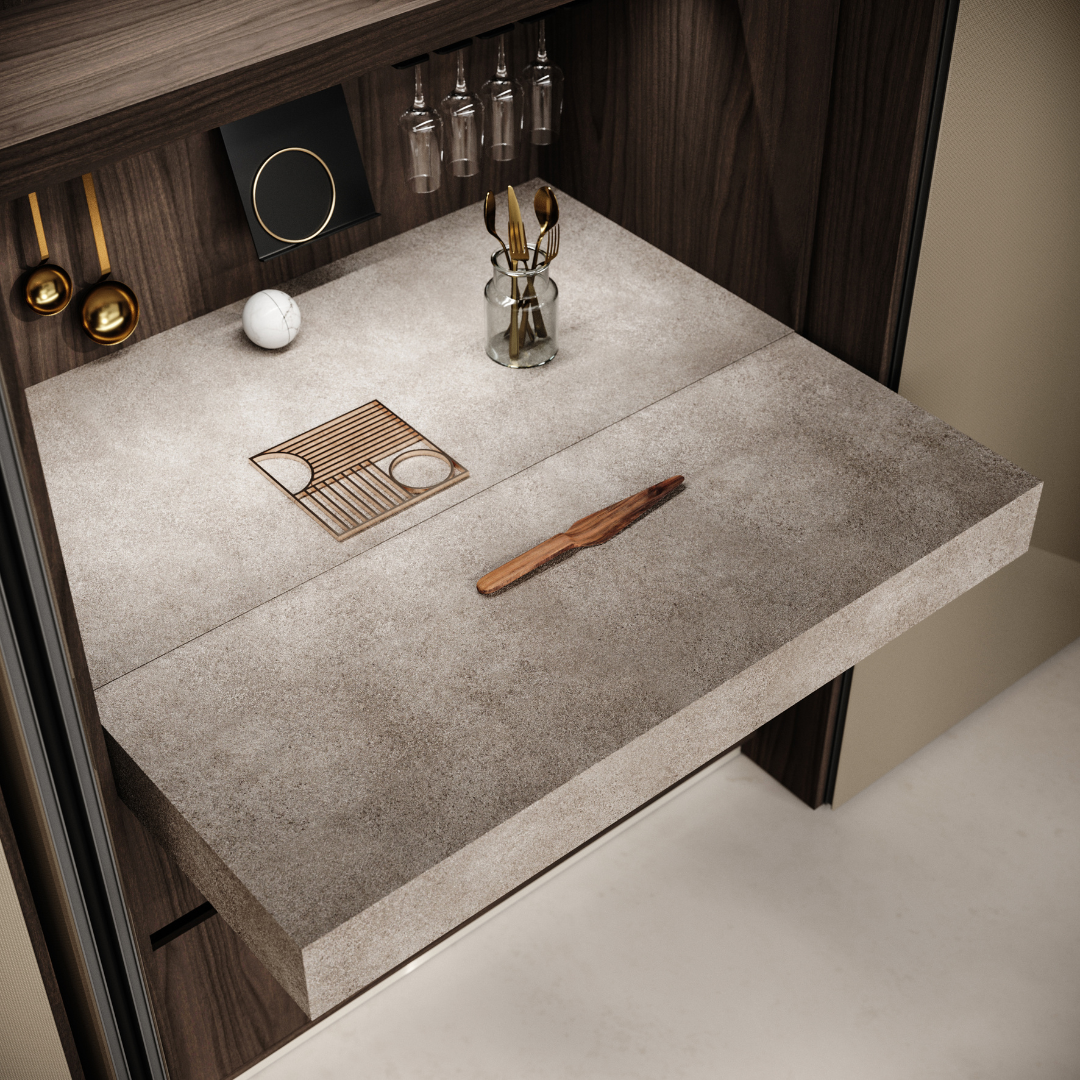 EuroCucina 2022, wrapped up last week at Fiera Milano, Italy.  The largest kitchen trade show in Europe, EuroCucina takes place every two years bringing together top manufacturers and designers from around the globe to showcase their achievements and demonstrate their latest kitchen solutions.
Snaidero Cucine solidified their place as a market leader in the kitchen cabinetry space within their exhibit by introducing a variety of elements and finish options, anchored by new technological advancements, and industry leading design enhancements.
The following is a glimpse into the Snaidero exhibit which highlights its Italian roots while propelling themselves forward with innovation.
---
ELEMENTI CABINETRY DESIGN
ELEMENTI stems from the usage of four natural elements within the design: stone, glass, aluminum, and wood. These elements in combination allow for a wide design of concepts centered in minimalist contemporary architecture. The modular elements provide maximum flexibility for kitchen layouts while optimizing aesthetics and functionality.  ELEMENTI stands out not only for its innovative material balance, but for the unique Groove Door profile.
---
TIBETUS
Designed to address the natural essence of shapes, this bridge-console optimizes customization and technological opportunities for a unique addition to any island. The light-weight frame creates an anchored design point while increasing the functionality of the layout.
---
INNOVATIVE FINISHES
Three additions to the Snaidero finish catalogue were unveiled: diamond-effect aluminum, décor glass, and aluminum ribbed European walnut wood base. These finishes add a level of luxury and three-dimensional aesthetic interest to any kitchen.
---
SIPARIO
Full-height pocket doors contribute to the minimalist environment by concealing a functional area. This system can be customized by depth, width, and height for a perfect fit in any design.
---
TA'OR
Canaletto wood finish on drawers provides an additional level of aesthetic customization. For those who want the look and feel of wood, this drawer box finish creates a unique and authentic option.
---
ARIA WORKTOP
An anodized profile and an incorporated LED light blade system creates a one of a kind feature. This system combines aesthetics and functionality to create a diffused lighting solution.
---
SPAZIO
A sliding worktop available in wood veneer or laminate optimizes space and design configurations. This worktop can move in parallel, perpendicular, or diagonal motions and can be fitted to either an island or peninsula.
---
For 75 years, Snaidero has been an outstanding Made in Italy company rooted in craftsmanship and all-Italian passion for design. Our kitchens, which are exported all over the world, are unique products that combine functionality and sustainability, made with high-quality, environmentally friendly materials.  The Snaidero mission is to blend design, distinction and style allowing our clients a kitchen product that is increasingly able to meet their needs and requirements.