June 28, 2017
The Sincerest Form of Flattery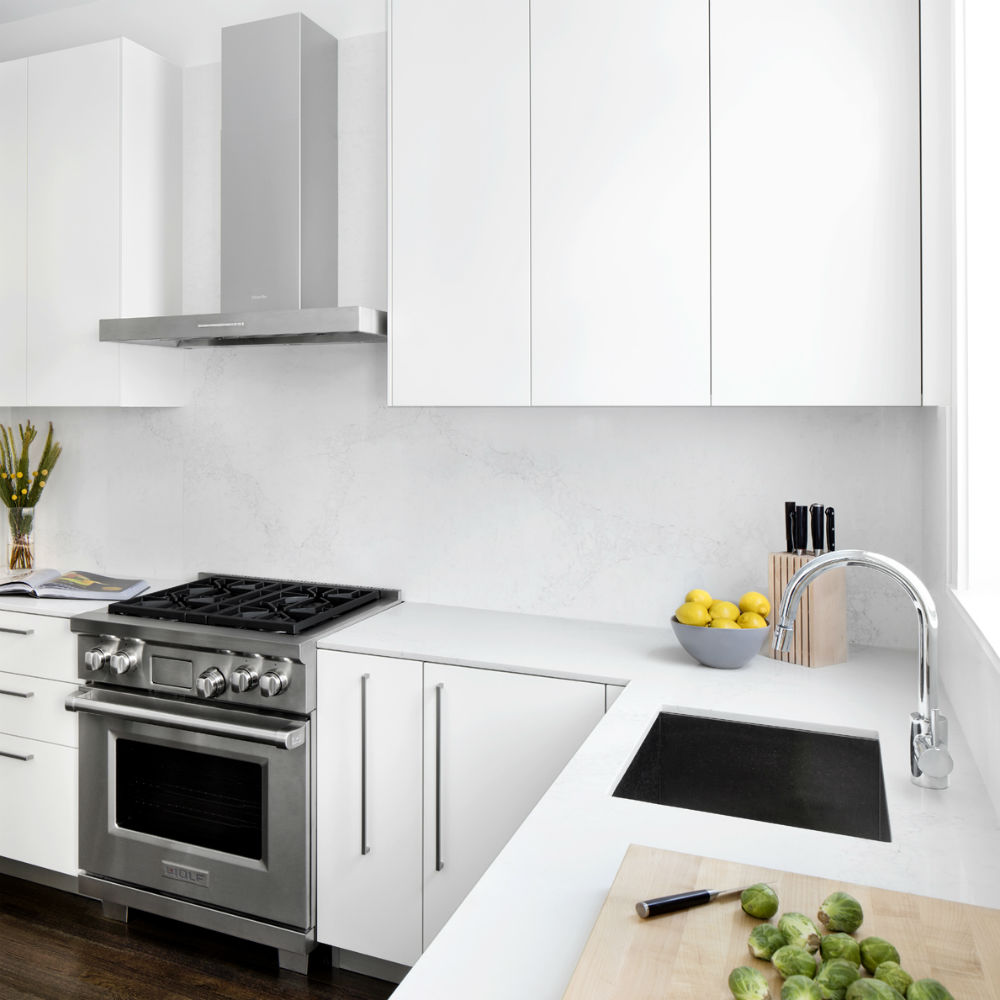 At Snaidero we strive to meet and exceed our clients expectations through the quality of our product, the thoughtfulness of the design, and the attention we provide our client throughout the entire process. We are flattered when our clients think enough of their kitchen renovation experience to engage us again for their next project.
**
"We chose Snaidero because we had such a great experience with the kitchen and bathroom cabinetry in our former condo at the Lacey. We wanted functionality, quality craftsmanship, and a clean aesthetic when it came to designing our kitchen. Without question, Snaidero was our first and only choice. Cooking is so much more of a joyful experience now that we have this beautiful kitchen. Thank you!!"
After living with Snaidero in their first DC condo, this couple installed Snaidero again upon buying their row home in the Shaw area of DC, as a result of the design and durability of the cabinetry.
**
"When we had to deal with flood damage in our kitchen I was dreading having to renovate again. I loved the Snaidero kitchen we'd put in over 20 years ago, and wasn't crazy about changing. We eventually decided on a complementary update instead of a complete kitchen redo. The designer from Snaidero DC Metro, helped me every step of the way, not only in cabinet selection but also on floor tile, counter, sink and faucet selection, patiently rebuilding the kitchen to a look of sleek lines, colors and textures I adore!"
After a flood damaged the base cabinetry of their 20+ year old Snaidero kitchen, our Annandale clients decided to replace only the impacted cabinetry due to the fact that the remaining cabinets were in such great shape.
**
"As part of a whole house renovation, Snaidero designed our kitchen, a powder room and master bath vanities. Our designer was wonderful to work with. She had great taste, helped us understand what was possible, was extremely organized and always hit deadlines. She understood building logistics as well as aesthetics, was detail oriented and was there for installation to make sure everything went as planned. She could navigate the varying budget. The end-product was gorgeous and functional. We are thrilled with every detail. We have almost twice the storage space yet it looks airy and spacious with very clean lines. Our designer also gave us ideas that helped integrate the look of the whole house. We could recommend Snaidero to anyone enthusiastically."
These Capitol Hill clients were deeply connected with the minimalist aesthetic and quality of Snaidero. After their cabinetry was damaged in a flood, there was no question that these homeowners would remodel their kitchen with Snaidero!
**
"When can we design my Florida kitchen?!?! I love the style and quality of your cabinets."
Our client at Turnberry Tower wanted to add additional pantry storage to her existing Snaidero kitchen. Complimenting the original finish, our client worked with our design team to increase storage while seamlessly weaving the new cabinetry into her existing kitchen and dining room.
**
A third generation, family-owned business, Snaidero prides itself on quality. Our quality promise is a commitment and pact of trust that we have honored for over 71 years, designing and manufacturing kitchens that are 100% Made-in-Italy with the finest materials and designs that are meant to be timeless.
Snaidero's exclusive designs are a careful consideration of form, function, quality and aesthetics. We offer award-winning design solutions by partnering with some of today's most acclaimed designers, architects and artists to create designs that are innovative yet timeless in style and highly customizable to fit any lifestyle. Furthermore, behind every design is an extensive analysis of trends, colors, materials, ergonomics, technological applications and safety, to ensure the end product will meet the market's demands and will stand the test of time. Each product is manufactured to long surpass the 10 year guarantee.
To complement our product Snaidero offers unparalleled service. We work ceaselessly to provide a professional, seamless experience, and to establish a deep understanding of the clients' needs and desires and work within their budget to ensure that each customer receives the kitchen of their dreams. Our aim has always been to improve your life, by improving the quality of the time and space dedicated to the kitchen in your home.